When, if not now, should Europeans start talking to each other? Using an innovative matching algorithm and an online platform, Europe Talks addresses this question and enables live conversations between Europeans across the continent.
Starting 1. October 2021, media partners from 17 countries are calling for a new edition of the "Europe Talks" dialog format. The campaign invites people from all over Europe to engage in cross-border debates on controversial political topics. Using an innovative matching algorithm, all participants will be matched with a conversation partner from another European country who holds different political views. The one-to-one conversations, conducted in English, take place mainly via video call.
This year, "Europe Talks" participants will be matched with a partner from another country immediately after registering. Until December, participants will have the opportunity to repeatedly receive new "matches" and hold several discussions. The topics will include a European vaccination requirement against the coronavirus, a ban on fossil fuel cars and the introduction of an unconditional basic income. On December 12, "Europe Talks" will end with a digital closing event.

For "Europe Talks" a large network of European media cooperates: ZEIT ONLINE from Germany, Beta News Agency from Serbia, BTV from Bulgaria, Daily Mirror from Great Britain, Der Standard from Austria, Efimerida Ton Syntakton from Greece, El Confidencial from Spain, Gazeta Wyborcza from Poland, Hromadske.ua from Ukraine, La Repubblica from Italy, Les Surligneurs from France, LRT from Lithuania, N1 from Serbia, Newtral from Spain, Telex from Hungary, Times of Malta from Malta and Vox Europ from Brussels. France Medias Monde from France, Deutsche Welle from Germany, Onet from Poland,  RTP from Portugal, RFI from Romania are participating as part of the European ENTR project.
Europe Talks 2020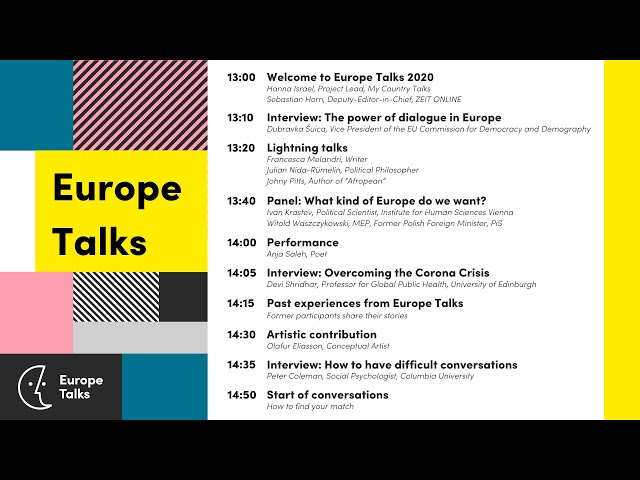 Winner project of the Jean Monnet Prize for European Integration 2019   
Following this success, Europe Talks has been awarded the
Jean Monnet Prize 2019
for its integrative power. The prize honours projects and personalities who "contribute to supporting and strengthening European integration". The jury stated that Europe Talks had achieved "combining citizens' participation with the possibilities of digital tools and the role of the media" in a wonderful way.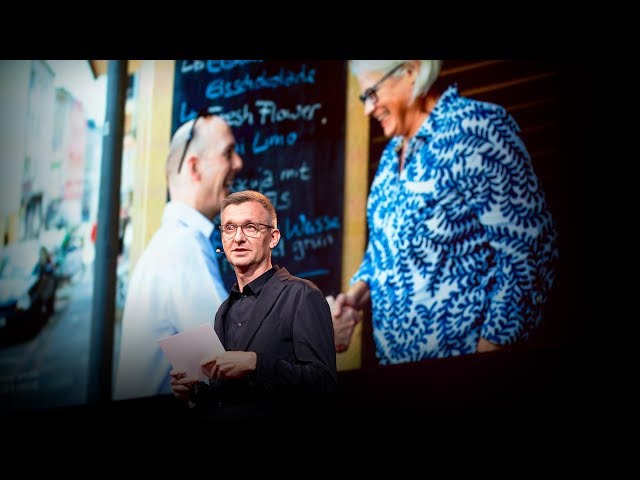 Europe Talks 2019
All media partners have asked their readers seven controversial questions, which are being debated in many European countries. For example: Should all European countries reintroduce strict national border controls? Or: Should rich European countries support poorer countries? An algorithm then compiled those couples who answered the questions as differently as possible and live in a neighbouring European country.

The interest in participating was enormous: more than 17,000 participants met all over Europe for a personal conversation, by video or telephone call. Over 80% of them stated that they had had a positive experience with "Europe Talks" and that they would like to participate again. Scientific accompaniment has shown that just two hours of conversation between people with completely different political views are enough to weaken polarisation and break down prejudices. In addition, the meetings served to strengthen the participants' confidence in social cohesion.
The media partners of the 2019 edition include: The Financial Times (UK), fsyn (Greece), Helsingin Sanomat (Finland), ARTE (Germany/France), Capital (Bulgaria), Standaard (Belgium), Knack (Belgium), Delfi (Estonia, Lithuania), Der Standard (Austria), Gazeta Wyborcza (Poland), Huffington Post (Italy), La Repubblica (Italy), Morgenbladet (Norway), Politiken (Denmark).

More 
about Europe Talks 2019