Chios Music Festival_Rainer Maillard
The Chios Music Festival is an interdisciplinary festival taking place on the Greek island of Chios. The festival organises various concert formats, musical theatre performances and workshops featuring renowned artists for all islanders, both long-term and temporary residents.
The festival was organised for the first time in 2017. Its artistic directors are the violinist Olga Holdorff-Myriangou and the composer Lefteris Veniadis, both with family roots on the island. The festival includes a summer and a winter edition. In winter the festival activities  concentrate mainly on musical projects in schools, the refugee camps and nursing homes.
This year, the Staats- und Domchor Berlin, which is considered the oldest musical institution in the city of Berlin, founded 555 years ago, will be invited to perform in Chios.
The summer part of the festival will take place at the beginning of August, when the numerous open-air venues will be at their best. A special feature of the festival is that it does not take place at a single venue, but at different locations on the island. In summer, in addition to the various concerts, the performance of a new musical theatre work has become an integral part of the festival, involving as many participants as possible in the preparation and performance.
This year it will be the interdisciplinary musical theatre project Soccer Opera and the trans-traditional concert series Outernational are only a few highlights. The festival will also take part in the international project The Walk featuring a larger-than-life puppet named Amal as a symbol of all displaced refugee children. Once again, musicians who have immigrated to Europe will perform in concerts and workshops within the project Soundroutes and share their skills and experiences with the inhabitants of the island.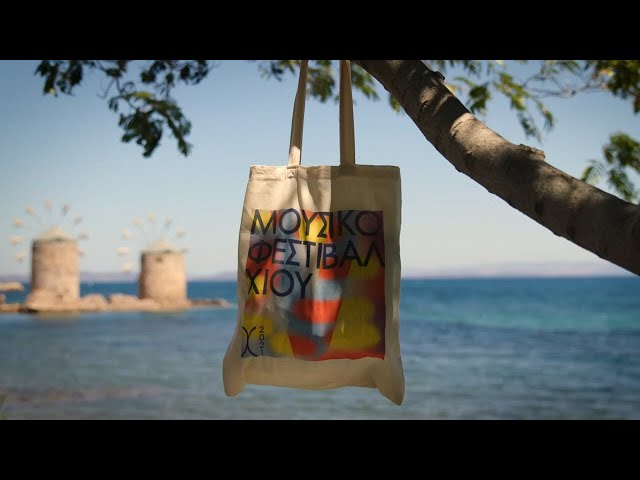 This summer, the Chios Music Festival returns with an anniversary edition presenting a rich programme under the title "eVolution" – the capital V referring to the five consecutive years of its existence.
The Chios Music Festival takes us on a journey through various musical landscapes, from a contemporary Soccer Opera to jazz and classical music.
In the video the artistic directors of the Chios Music Festival, Olga Holdorff-Myriangou and Lefteris Veniadis, tell us more about the origins of the festival and its future.

The Summer 2021 Programme